Thank-you for stopping by our website.
We are Still Delivering Customers Orders in this crazy time.
The COVID-19 has reduced the amount of days we deliver, but we are still here for our Customers.
Currently we deliver to Brisbane on Thursday each week, ideally we need to have your order by 1 pm Tuesday for a Thursday delivery. Friday's delivery area is Kenmore to Western Suburbs. Ideally we require an order placed by Wednesday 1 pm to be included in the Friday delivery run. As we package all orders once the order is received, we need a 48 hour order process time. This is to get new invoices issued, new customers account to be set up, payments to be received. All orders need to be paid for before delivery can be made. We Thank you for your understanding in this matter.
If you experience difficulty in placing an order, please email:
Gympie Gold Macadamia Honey
"Black Label"
Gympie Gold Macadamia is a premium honey, it is not available in all sizes and is only available until sold out. We collected this honey with our own hives in the Cooloola Hinterland, This Honey has a limited production season; it runs from approx mid August until mid October. As our Gympie Gold Macadamia is in high demand, we can not guarantee we will have stock for very long.
WE ARE CURRENTLY " SOLD OUT " OF MACADAMIA HONEY
For Macadamia Honey Options, Please Scroll Down ↓↓↓↓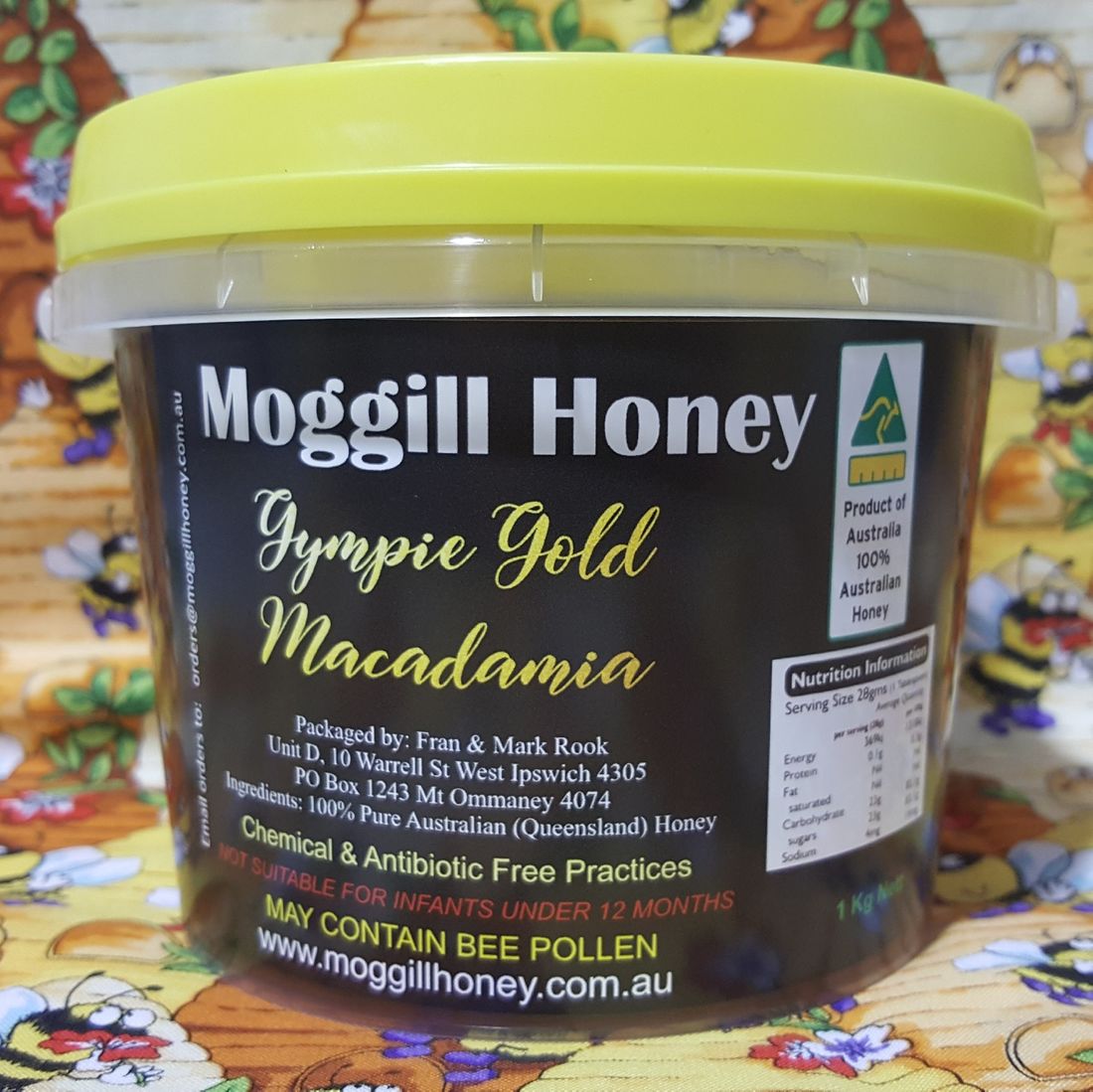 A Quality Product, with Old Fashioned Service & Values.
One of the most beautiful sounds in the world is the humming of the bees, busily going about their work of producing magnificent honey ….... just for us.
It is a sound that has resonated with us, with our parents and our grandparents … and if we were transported back in time, it would still be the same soothing sound and the product would still be the same magical liquid gold that our modern day customers have become used to.
There is nothing so wonderful as pure, organic honey … fresh from the hive; with nothing added and nothing taken away …the taste of old-fashioned magic dripping from the spoon.
And back in grandfather's day, the honey would have been taken from the hive just as it is produced by the hard working bees. And, just as our grandfathers did, we also pride ourselves on producing the same pure, rich taste of unadulterated organic honey in just the same way.
No chemical dare show its face around our hives or collection equipment. No water or syrups are added to dilute the purity of our product. You will never find our bees force fed sugar syrup or other .such 'substitutes' to increase production! Nor do we take every last drop of their hard won honey – our bees are our workers and our friends and they cannot produce the quality we are famous for, if we neglect their welfare.
And so, our bees rejoice in the permanency of their homes … not for them a life of uncomfortable travel and the inevitable dislocation. Unhappy bees make poor honey. So we care for our bees, as we care for our customers.
And as we visit our hives to collect our pure honey, produced just as nature intended; so do we visit our customers to deliver our famous, premium quality honey right to their doorstep ….Free of charge. Now, that's old fashioned service for some very special people … our customers!
F&M Beekeepers have one aim; that is to ethically produce a top quality product, to be sold at a fair price, supportive of the local economy in an old-fashioned kind of way.
So, if you have fond memories of wonderful tasting honey spread over Grandma's homemade scones then don't wait another moment – get your order in now! And soon, you too will be experiencing the wonder of pure, unadulterated honey; and you too can experience the almost forgotten legacy of our ancestors – the rich, pure taste, straight from the hive, to your doorstep, to your table.